Internet Public Relations is an emerging and exciting field. The internet has changed the PR landscape forever. Whereas in the not so distant past traditional media (print, TV, radio) had a strangle hold on publicity, now an internet savvy business can post their PR materials on the internet, and reach thousands more eyeballs for a fraction of the cost.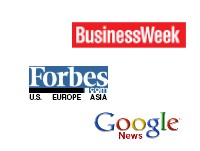 The key to effective internet PR is optimization. Press releases, white papers, or almost any other kind of material can be optimized for search engines in much the same way a webpage can. When a potential customer uses a search engine to find products or services, your PR material can appear in the top results right next to your website. Your exposure increases dramatically.
The number of websites in the business of PR distribution has also increased dramatically. Some offer their services for free, while others charge for distribution. Some of the big names in online PR distribution right now are PRWeb, PR.com and BusinessWire, to name a few.
Another great way of getting your message out there is by industry related articles. These, too, can be optimized for search engines, and there are a vast number of Article Directories on the web today. Article directories are searchable on-line databases of articles contributed by numerous authors. The goal of an article directory is to collect articles on certain topics and offer them to publishers to place on their website, e-zine or in print. The benefits of submitting your articles to directories are numerous and include:
Online publishers are drawn to article directories. Most publishers are looking for specific articles on topics that are relevant to their visitors, and directories provide lots of well written, free content. Publishers are usually required to honor all web links in the articles, and this translates to a sharp increase in visitors to your company website.
Some article directories offer a news (RSS) feed that automatically adds your new articles to dozens of websites. RSS stands for "really simple syndication" and that's exactly what it is. Think of an old fashioned ticker tape, and you'll get the idea of what RSS feeds are all about.
Article directories may have a good search engine page rank, which makes them ideal for providing a one-way link to your website.
Meade Internet has a proven track record of writing, optimizing and promoting company press releases and industry related articles, which builds traffic to your website and further promotes your company on the internet. Our work has appeared on some high profile spots, such as Google News, Business Week, Reuters, Forbes.com and PC News Weekly to name a few.
Contact us to find out how we can do the same for your company.